So my Mawaru Penguindrum Fabulous Anthology arrived and I took many photos of it.
| | |
| --- | --- |
| The cover is lovely and smooth and has shiny metallic lettering and is all round fabulous. | The first few pages have colour illustrations and NATSUME FAMILY FEELS ugh I wish they'd gotten more time and Kanba wasn't such a dick to them because they are so nice together. |
| FLAWLESS QUEENS. Got to icon this shit. | Again, flawless queen. |
| Waaaaah, too many Natsume feels. | OMG, Shouma you smug and adorable thing. |
| | |
| --- | --- |
| There was a lot of disgusting Rinsho (disgusting because of Ringo) and I think here there are memories of Shouma sneaking in? YEAH, REMEMBER THE GUY WHO SACRIFICED HIS ADORABLE SELF FOR YOUR WORTHLESS, BITCHY STALKER SLUT ARSE RINGO. AND WEEP like me. | OMG, SHOUMA AND KANBAAAAAAAA. Too many feels, why do this to myself? |

WHY COULDN'T THIS BE THE END? EVERYONE ALL TOGETHER AND HAPPY JUST NO. Perfect ending, no Ringo. They're smiling because they're imagining Ringo skewered and being eaten alive by a bear or something equally glorious.

I DON'T KNOW WHAT'S HAPPENING BUT IT'S AMAZING AND HAHAHAHAHAHAHA

OMG BOTH SHOUMA AND KANBA and KANBA THAT FACE and just laughing so hard, I am pathetic.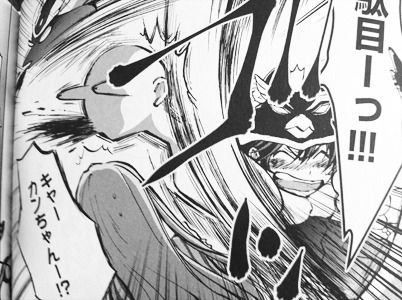 SOCK HIM, SHOUMA.

| | |
| --- | --- |
| Masako, why so hot? | SO CUTE AND JUST YES. /weeps |
| SPACE SHOUMA AND KANBA HAVING ADVENTURES FOREVER AND EVER /gross weeping | WEEPING UNATTRACTIVELY WHY SO MANY TAKAKURA FEELS? |
| I CHOOSE TO BELIEVE THIS IS CANON and Himari meets up with little Shouma and Kanba and adopts them and they live happily ever after with reversed roles. Yes this is perfect and now Ringo has no place in their lives because she's too old for little Shouma and thus the Rinsho ship sinks in a blazing inferno. | Shouma, why are you so perfectly adorable? |